Meet the team
Welsh Venison Centre – Meet our friendly team
We are a family run business set up in 1985,led by husband and wife team of Andrew and Elaine Morgan, we supply some of the best restaurants in the UK with their award-winning beef, pork, venison and lamb . Andrew, who is usually found on the family farm attending the deer, sheep and cattle, said: "We're a family business and you're likely to meet one or more members of the Morgan family if you visit the Beacons Farm Shop or buy from our outdoor catering van at a festival or summer show."
When you drop by the Beacons Farm Shop look out for 'Bampy' John doing DIY, Granny Ann with her delicious Welsh Cakes and granddaughter Ruby trying to persuade someone to give her an ice cream.
Elaine is in charge of selecting and tasting produce for the Beacons Farm Shop. She also chooses gifts for the shop and makes sure we're well-stocked with local produce, said Elaine: "The staff who work for us at the Beacons Farm Shop and on the farm are like part of the family. You'll find they're always willing to help and offer advice on everything from cooking venison to where to go for local walks."
Elaine encourages all members of staff to become an ambassador of the national park, you will find ambassadors within the farm shop who are enthusiastic and knowledgeable about what the Brecon Beacons has to offer.
Loz and Katie are the friendly faces you will see in the farm shop whenever you stop by. They are always happy to help and since being local themselves bring their knowledge and individual personalities to the team. "You'll also find them on our catering van at festivals and shows - so stop by for a chat whenever you see us," said Elaine.
Cooking all of our delicious cafe food is Luke, our full time chef - who is always interested in using not only venison but lots of tasty food for our menu.
You will find two expert butchers when you visit us: the ever-smiling Gavin and bubbly Dafydd who both have years of experience and are more than happy to help with any questions you may have about our produce. Last but not least we have our van driver Steve, he lives in the Village of Bwlch itself- he is a local and chirpy character who all our customers love.
If you have any queries make sure you approach one of our lovely and committed members of staff.
We're happy to share our local knowledge
Elaine and Rachel Morgan are officially Brecon Beacons National Park Ambassadors. That means they have a wealth of local knowledge at their fingertips and they're happy to share it with you!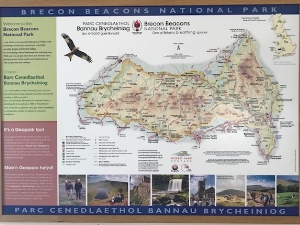 You can ask them for tips on great local walks – for example, you're welcome to park at the Beacons Farm Shop to walk up the Allt, accessed from a track at the bottom of the shop drive. Once you reach the top there are great views of the peaks of the Brecon Beacons to the south and the edge of the Black Mountains to the east.
Or you could drive down the lane from the Beacons Farm Shop to take a walk around Llangorse Lake and the lovely Llangasty church and the bird hide.
If you're hungry and thirsty after your walk, don't forget to pop back into the Beacons Farm Shop. We have a full menu available and we serve food all day until 4pm.